So yes! The PINK Rally at the Raleigh was pretty cool. Pretty people, pretty brand, pretty boys. Yeah that's right, boys. At first I was like, why would guys want to be around all this PINK, girly-stuff? Then I realized what guy WOULDN'T want to be where all these hott spring breaker girls are in Miami? I counted at least five sporting their pink Lacoste, obviously. Looking goood.

Ehem. Aside from the beautiful people from Miami and abroad, there were cool celebs like Brody Jenner (The Hills hottie), Vanessa Mannillo (the MTV/Maxim Hottie) and Miranda Kerr (the Aussie Angel hottie). You really do feel like a fatass when you see models in person. Christ. Ms. Kerr almost made me want to flush my modeling endevor down the shitter just by merely looking at her. Oh yeah, DJ Irie was there too. But he's not hott.

The hotel this this was hosted at for the second year in a row, The Raleigh, is on 17th and Collins Avenue on the Beach. Wonderfully upscale place to stay here if you've got the $$$. The back area was huge -- large size patio, giant pool, and a sandy part with upholstered couches, tables, and a volleyball net. Victoria's Secret had EVERYTHING PINK-afied, from pins on the pillows on the couches, to the giant dog on the diving board, to the volleyball net. It was like a fantasy playland for rich bitches. And upper-middle class bitches!

The Raleigh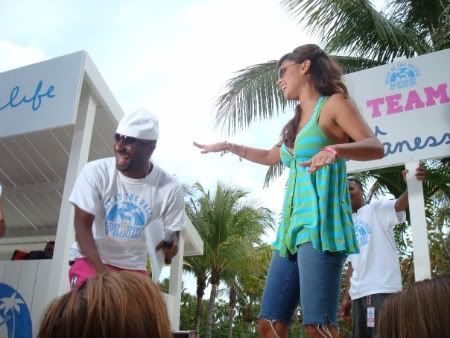 DJ Irie and Vanessa Mannillo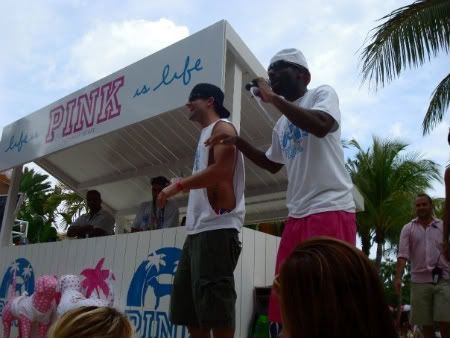 Brody Jenner and DJ Irie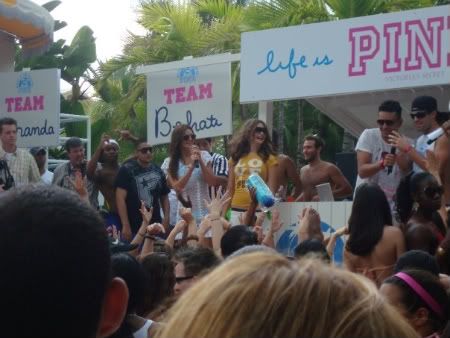 Miranda Kerr (holding the microphone)
Love you guys,
UMCB